Uk's Royal Mail Soars On Stock Market Debut
"One can only say that investors have clearly given their stamp of approval to the offering," said Brenda Kelly, senior market strategist at IG. But the opposition Labour Party argues that the gains prove the government shortchanged taxpayers and could have gotten more than the 1.72 billion pounds ($2.75 billion) it received from the sale. "The government has a lot of explaining to do," the Labour Party's business spokesman, Chuka Umunna, wrote on Twitter. The privatization is symbolic for the Conservative Party, the main party in the coalition government. Much of its electoral success in the 1980s under Prime Minister Margaret Thatcher was due to the sale at the time of state assets such as British Gas and British Airways. Business Secretary Vince Cable, who is a member of the Liberal Democrats, the junior party in government, dismissed claims the sale had been undervalued, telling BBC Radio that the sharp price rise was no more than "froth and speculation." Big financial institutions, such as pension funds and sovereign wealth funds, are trading the shares Friday in what is known as conditional trading. Smaller shareholders who tended for only 750 pounds ($1,200) and bought through brokers were able to trade, too. Those who bought shares directly, including postal workers who got free stock, will get their chance to trade on Tuesday. Following Friday's surge, the company is now valued at nearly 4.5 billion pounds ($7.2 billion), which means it is easily in the top 100 British companies by market capitalization. As a result, it could be listed on the FTSE 100, Britain's main stock index, when the index is revised in December that would attract further investor interest. Analysts, however, say the company's share price could be weighed down by the possibility of industrial action by unions unhappy with the privatization and an unclear growth strategy. Billy Hayes, general secretary of the Communication Workers Union, described the sale as "a tragedy" and said that despite the free shares for employees, a ballot next week was likely to back industrial action. "Vince Cable, one of the cleverest men in British politics, has made one of the stupidest decisions he is ever likely to make as a politician," he told the BBC. SHARE 20 CONNECT 26 TWEET 1 COMMENTEMAILMORE Copyright 2013 The Associated Press. All rights reserved.
UK visa applicant arrested in Chennai for submitting fake documents
Top Stories Pakistan violates ceasefire again in Samba sector, BSF jawan injured A UK visa applicant here has been arrested for allegedly producing fake documents and faces a 10-year ban on travel to the Britain, the British Deputy High Commission (South) said today. "The Visa applicant had applied for a UK Visa and presented false documents to prove his financial circumstances. Preliminary investigations revealed that the applicant had paid Rs 2 lakh to an agent in order to obtain these false documents," an official release from commission here said. "The applicant was referred by UK Visas and Immigration to the police. The applicant will have a 10 year ban on travel to the United Kingdom," it said but did not disclose the identity of the applicant. "We welcome genuine visitors, students and workers to the UK. We will,however, not tolerate abuse of the UK Visa system and we have a zero tolerance of fraud…," UK Visas and Immigration, Regional Director, Central Asia, South Asia and Turkey, Thomas Greig said. Stating that the High Commission has a "very effective processes" for detecting fraud, he said, "when we uncover fraud, including false bank statements, education and language certificates, we will refuse the visa and the applicant will face a 10 year ban travel to UK". "I strongly advise anyone who wants a visa for the UK not to listen to agents who offer to sell forged documents or say that they can guarantee a visa", he added. Tags:
UK to relax China visa rules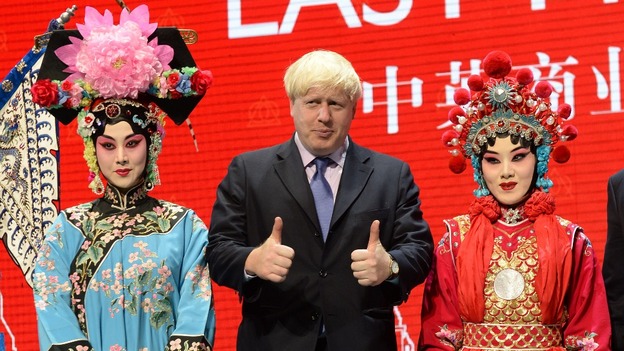 Britain and China are two very old civilisations and China represents a fifth of the world's population. Of course we can bring up issues that we have concerns about but we do also have to respect the fact it is a deep and ancient civilisation that is tackling its own problems and going about it in the way it thinks is appropriate. We can point out where we would do things differently, but I do think we need to show some respect for that. I think there is a bit of a British attitude which treats China as a sweatshop on the Pearl River. One of the things I'm trying to do this week in China is to change British attitudes to China… this is a country that is right at the forefront of medicine and high-tech and computing and high-tech engineering and all of that. Chancellor George Osborne speaking to BBC Radio 4 Today programme about 8 hours ago Boris Johnson and George Osborne are 'yin and yang' Chancellor George Osborne joked that he and Boris Johnson are like "the yin and the yang" as they both continued their visit to China. George Osborne said he and Boris Johnson are like "yin and the yang". Credit: Matt Dunham/PA Archive Read: Chancellor's mission to make up lost ground and build bridges with China Asked about the timing of their trips which saw the Chancellor and London Mayor in China at the same time, Mr Johnson joked with Beijing students that they were like a "pair of harmonious doves". The London Mayor was asked who was in charge and he replied: "We are representing our country. It's a nest of singing birds is how I would describe it. It's total harmony, there's probably some Chinese expression that completely perfectly culminates it." The Chancellor intervened: "The yin and the yang." Mr Johnson then turned to a Chinese student, asking: "The yin and the yang.