Uk Court To Hear Evidence Ahead Of Landmark Libor Ruling
Barclays is being sued for up to 70 million pounds ($112 million) by Guardian Care Homes, a UK residential care home operator, which alleges the bank mis-sold it interest rate hedging products that were based upon Libor. The case has been delayed until April 2014 so the appeal decision can be heard. It started out as a complaint about the alleged mis-selling of interest rate swaps but a judge ruled last October that it could be amended to include claims of fraudulent misrepresentation connected to Libor manipulation. Barclays said the case has no merit because Guardian Care Homes had sufficient understanding of the products to make its own judgment over whether to enter into the agreements. "The addition of a claim based on what happened with Libor does not change the bank's view. This business had a suite of advisors and a lot of financial experience and skill in-house," it said on Friday. Barclays last year paid a $450 million to settle allegations it manipulated Libor, and UBS and Royal Bank of Scotland have been fined for manipulating Libor. Deutsche is among several other banks under investigation. Deutsche Bank last year sued Indian property firm Unitech for the repayment of a $150 million loan made in 2007 by a consortium of lenders and for the repayment of $11 million owed for a related interest-rate swap. But Unitech counter-sued, saying the loan and swap deal were linked to Libor interest rates, which at the time were being manipulated by some banks. A UK court last month said Unitech must repay the loan, but said the dispute over the related swap should go to trial. The judge said just because there was evidence the Libor rate had been manipulated did not make a loan void.
UK denim drive to make home insulation and reduce waste part of national Oct. campaign
about 7 hours ago Boris Johnson goes window shopping in Beijing Mayor of London Boris Johnson and his entourage have hit the streets of Beijing to tour the city's shopping districts during his trade visit to China. The Mayor of London is attempting to forge closer business links between the capital and China. Credit: Angus Walker/ITV News 'Fans' excited over Boris Johnson's China visit Mayor of London Boris Johnson meets local shoppers in China. Credit: Stefan Rousseau/PA Wire Chancellor George Osborne said he and Boris were "yin and yang". Credit: Stefan Rousseau/PA Wire Students at Peking University pose with Boris. Credit: Stefan Rousseau/PA Wire about 15 hours ago Brits need to change Chinese industry 'sweatshop' view Chancellor George Osborne wants Britons to stop viewing Chinese industry as a "sweatshop" and accept it is a world leader in high-tech industries. Amid concerns about human rights and corruption, Mr Osborne said China was "tackling its own problems" in the "way it thinks is appropriate". Britain and China are two very old civilisations and China represents a fifth of the world's population. Of course we can bring up issues that we have concerns about but we do also have to respect the fact it is a deep and ancient civilisation that is tackling its own problems and going about it in the way it thinks is appropriate. We can point out where we would do things differently, but I do think we need to show some respect for that. I think there is a bit of a British attitude which treats China as a sweatshop on the Pearl River. One of the things I'm trying to do this week in China is to change British attitudes to China… this is a country that is right at the forefront of medicine and high-tech and computing and high-tech engineering and all of that. Chancellor George Osborne speaking to BBC Radio 4 Today programme about 17 hours ago Boris Johnson and George Osborne are 'yin and yang' Chancellor George Osborne joked that he and Boris Johnson are like "the yin and the yang" as they both continued their visit to China. George Osborne said he and Boris Johnson are like "yin and the yang".
Osborne: New ties for UK-China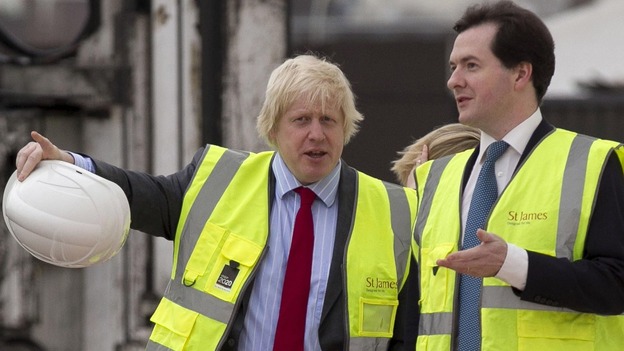 campaign Theres still time for individuals to donate their unwanted denim to the University of Kentucky denim drive. The drive, organized by student members of the UK Merchandising, Apparel and Textiles Club in the College of Agriculture, Food and Environment, kicked off Oct. 2 and will continue throughout the month. A pile of donated jeans (Photo from UK) Denim garments including jeans, shirts, skirts and scrap pieces with embellishments and of any color and condition are accepted. Collection bins are located throughout UKs campus and across the state at offices of the UK Cooperative Extension Service. The UK drive is conducted in conjunction with Cotton, Inc.s Blue Jeans Go Green denim recycling campaign. Cotton, Inc. takes used jean material and converts it into natural cotton fiber insulation to use in the construction of homes and civic buildings for communities in need across the United States. As a result of the denim recycling program, fewer textiles are sent to landfills, reducing the amount of waste. Students in the MAT club, which is a part of the UK School of Human Environmental Sciences, have participated in the recycling campaign since 2008. In 2011 and 2012, the group collected more than 20,000 garments. Since Cotton Inc. began the drive in 2006, it has collect more than 985,000 pieces of denim that have produced 2 million square feet of home insulation and saved 600 tons of waste from going into landfills.
UK high court throws out Magnitsky libel suit
View gallery Photo provided on Novenber 15, 2010 by Hermitage Capital Management and taken on December 29, 2006 shows Russian lawyer Sergei Magnitsky in Moscow (AFP Photo/) London (AFP) – Britain's High Court on Monday threw out a libel suit by a former Russian interior ministry investigator over accusations that he was involved in the death of whistleblowing lawyer Sergei Magnitsky. Pavel Karpov is named on a US blacklist of Russians involved in the case of Magnitsky, who died in jail in 2009 after being detained while investigating a massive theft of state assets by Russian officials. The ex-policeman had sought to sue Magnitsky's former boss, William Browder, the US-born British chief executive of the Hermitage Capital investment fund, which was the focus of the alleged embezzlement scam. Hermitage Capital and US lawyer Jamison Reed Firestone, who hired Magnitsky as an auditor in his Moscow office, were also named in the libel suit, which centred on a number of videos posted online about the Magnitsky case three years ago. But judge Peregrine Simon said in a written ruling: "I have concluded that these proceedings should be struck out as abuse of the process and/or under the inherent jurisdiction." The judge said that Karpov had failed to establish that he had a reputation in England and Wales that could be damaged by the allegations in the video, a requirement in libel cases. He said the Russian had tried to bring similar proceedings in his home country, "the natural forum for such a claim", which had been unsuccessful. And he noted that any success in the libel suit "would be unlikely to assist (let alone achieve) the most important of the Claimant's stated objectives: his removal from the Magnitsky list". But the judge said Karpov had achieved "a measure of vindication as a result of the views I have expressed on his application", namely that Browder and his campaign were not in a position to justify their allegations that Karpov caused, or was party to, the torture and death of Magnitsky. A spokesman for Hermitage Capital welcomed the ruling, which it said was an attempt to use Britain's tough libel laws to stifle a campaign to get justice for Magnitsky. "Thankfully, the court took a decision which reflects natural justice and common sense," he said. Karpov retired as a policeman in July 2012, having spent the previous three years working for the Investigation Committee of the interior ministry. The committee named him 'best investigator' in 2010. Magnitsky had accused Karpov and others of illegally gaining control of subsidiaries of Hermitage Capital and using them to fraudulently reclaim billions of rubles. Karpov was later appointed to the team bringing a tax evasion case against the lawyer, who was in pre-trial detention when he died of untreated illnesses on November 16, 2009, aged 37.